Business Owners
Embed Local is placing kids picture books (based on four themes and a hundred occupations) into businesses in five New Jersey towns. These self-guided picture book tours attract families to various community organizing programs in Hackettstown, Andover, Newton, Denville & Sparta. Embed Local's supplied products creates new revenue streams for businesses as well as attracting new customers. Beyond picture books, Embed Local creates new product showcases, compares similar goods from different brands and supplies closeout products. By the end of the year participating businesses will compare foods using taste testing events.
Consumers learn about aromatherapy using sponsored giveaways to encourage hand washing. These hand washing kits sample 75 scents from over 80 different USA soap companies. Distribution is sponsored by local service suppliers who are part of our business lead program. Three same scented soap bits are compared in each sponsored hand washing package. Full bars of local customers favorited scented soaps can be embedded onto local shelves. Profits from leads sold and all other supplied products and services are split with participating businesses.
Local families will enjoy our award winning and noted Picture Books broken down by Theme, Morals & Virtues. These self guided book tours for kids are arranged by theme (Hackettstown - Dream, Newton - Courage, Denville - Will, Sparta - Heart, in Andover we highlight Rare Kids Titles). New titles have been added to help explain different professions to kids. Books placed into businesses can be displayed or kept behind the counter, Embed Local will send you fresh families year round.
Embed Local attracts tourism, day trippers and locals to persuade businesses to work with our buying group and any of our drop shipping partner manufacturers. Businesses are needed to supply shelf space for products local customers have favorited and need local access to. Testing similar products from a wide range of categories creates transparent data and reviews that highlights the best products. Consumer's book, soap, sock & new product reviews are posted transparently on our site. Consumers social media and conversations at our socializing attractions become multi layered marketing for products we have embedded locally. Our site maintreats.com pinpoints the locations of all products embedded locally.
Sign up your customers to start profiting from 4,000 drop ship manufacturers and products placed in all participating stores. Our 2% rebate program brings online customers into your physical stores. We promote the programs locally and on weekends at NYC street fairs selling closeouts and getting city folks to visit and move to the hills of NJ. Participating stores hang our posters highlighting local happenings and storytelling. Signs that state "Support Main Streets" will be placed around Main Treats locations in the Sussex, Morris & Warren tri-county.
Join the next level of modern local retailing, call Norman at 917 822-1870, or email me at embedlocally@gmail.com to set up an in-store appointment at your convenience. I will bring over complimentary books for the kids, closeouts to use as door-busters, and explain ways to make new revenue by working as a community.
Lets talk today!
Norman Scherer
Embed Local
www.maintreats.com
917 822-1870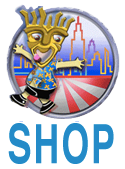 (917) 822-1870