Two shape-shifting tigers end up at a Texas sanctuary and try to learn to get along & be human.
This fantasy about a tooth fairy family highlights the first mission of a young fairy.
G.P. Putnam's Sons
The past life of a dog from a shelter is imagined by a young child.
Animal noises guide us through dances, picnics and just plain animal fun.
A Knight slays a dragon that has been terrorizing the locals.
A smart imaginative young girl finds trouble for telling tall tales, fantasy & lies.
A scary African folklore poem about the shadow that follows you everwhere, morning, noon & night.
A wordless tale of a magical fun adventure with a boys flying snowman whose scarf ends up in his pocket after he melts.
Dinosaurs replace the junky giveaways kids collect from different businesses doing chores with mom.
Perspective
A Garden of Opposites
by Nancy Davis - 2009

Schwartz & Wade Books

Opposite concepts are taught using outdoor situations.
A Good Day
by Kevin Henkes - 2004
Greenwillow
Positive messages show that effort and random changes makes bad moments switch to overall good days.
A Lion in Paris
by Beatrice Alemagna
Tate
A lion must discover his identity when he becomes a stranger in the strange land of Paris.
Actual Size
by Steve Jenkins - 2004
HMH Books
Humorous facts illustrate diversity in the animal world using sized body parts to base proportion.
Baby Party
by Rebecca O'Connell - 2015
Albert Whitman & Company
A party helps babies with shape recognition.
Bad Day at Riverbend
by Chris Van Allsburg - 1995

Houghton/HMH

This crime solving western mystery solves a puzzle about a coloring book.
Bea and Mr. Jones
by Amy Schwartz - 2006

HMH Books

A dad and daughter trade places, she goes to work and he heads back to school.
Big and Small, Room for All
by Jo Ellen Bogart, Illus. by Gillian Newland - 2009
Tundra Books
This perspective books zooms in from space to microscopic life.
The Big Orange Splot
by Daniel Pinkwater - 1977
Scholastic
A family goes against the grain using artistic expression & diversity to solve a house color problem.
Black? White! Day? Night! A Book of Opposites
by Laura Vaccaro Seegers - 2006
Roaring Brook/Neal Porter
Concepts of multiple perspectives fill its interactive flipbook pages.
by Audrey Wood - 2012

The Blue Sky Press

Kids learn & observe the sky in different cosmic moods.
Astrology Boutique - 17 Main St, Sparta, NJ 07871 (973) 570-7725
Cowboy Baby
by Sue Heap - 2012
Walker
Bedtime imagination book that shows the fun of not wanting to go to bed.
Dear Primo: A Letter to My Cousin
by Duncan Tonatiuh. (written & illustrated) - 2010

Harry N. Abrams

Mexican & American cousins compare their existences.
Dino Bites!
by Algy CraigHall - 2013

Boxer Books

A bug escapes after being eatten by a dino who is eatten by a bigger dino.
Dinosaur Roar!
by Paul & Henrietta Stickland - 1994
Dutton Books
Rhymes illustrate the differences & emotions of various dinosaurs.
Dinosaurs: A Giant Fold-Out Book
by Simms Taback - 2012
Blue Apple Books
This active book makes learning about different types of dinosaurs fun.
Dinosaurs, Dinosaurs
by Byron Barton - 1989

HarperFestival

Characteristics of dinos personalities & forms are described.
The Dumpster Diver
by Janet S. Wong - 2007

Candlewick Press

Trash transforms into treasures & inventions in this recycling adventure.
Eeeek, Mouse!
by Lydia Monks - 2009

Egmont

Different perspectives (even from the cat) show the freeing of a mouse family from a trap.
Fanny's Dream
by Caralyn Buehner, Illus. by Mark Buehner. - 1996
Puffin Books
Cinderella story goes contemporary without the help of her fairy godmother.
Finding Winnie: The True Story of the World's Most Famous Bear
by Lindsay Mattick. Illus. by Sophie Blackall - 2015
Little, Brown Books
This nonfiction tale shows how a bear named Winnipeg cheered up soldiers on the front.
Flashlight
by Lizi Boyd. (written & illustrated) - 2014
Chronicle Books
A boys flashlight in the woods discovers hidden art.
by Karla Kuskin - 2007

Laura Geringer Book

Readers use their imaginations to decide what objects they would like to be.
Pandan Room - 100 E Moore St, Hackettstown, NJ 07840 (908) 850-5999
Head, Body, Legs: A Story from Liberia
by Won-Ldy Paye and Margaret H. Lippert, Illus. by Julie Paschkis - 2002
Square Fish
Body parts divided come together & cooperate to get things accomplished.
Hello, Baby Beluga
by Darrin Lunde, Illus. by Patricia J. Wynne - 2011
Charlesbridge
A friendly baby whale answers the questions asked of it, treating readers to knowledge.
How Oliver Olson Changed the World
by Claudia Mills, IIlus. by Heather Maione - 2009
Farrar, Straus and Giroux
A kid with overprotective parents changes himself so he can change the world like his teacher wished.
How to Make an Apple Pie and See the World
by Marjorie Priceman - 1994
Knopf/RHUS
This travel book gathers ingredients from around the world to create a perfect pie.
I Love Colors
by Margaret Miller - 1999
Little Simon
A book to help babies with size, shape and color recognition.
It's a Secret
by John Burningham - 2009
Candlewick Press
A girl gets small and hangs out all night on the town with her cat.
by David Soman - 2010

Grosset & Dunlap

A girl explores traits and identity by dressing up in costumes.
Kid's Junction - 101 Grand Ave, Hackettstown, NJ 07840 (908) 852-8999
Like Pickle Juice on a Cookie
by Julie Sternberg, Illus. by Matthew Cordell - 2011

Amulet

Good times with her old babysitter haunt a growing girl, but at least the memories will never leave her.
Lines that Wiggle
by Candace Whitman, Illustrated by Steve Wilson - 2009
Blue Apple Books
This rhyming art book shows different variations of lines to make kids explore concepts & develop imagination.
by Jerry Pinkney - 2006

Dial Books

Hungry animals on a farm expect bread after refusing to help grow, harvest, prepared or bake it.
Bea McNally's Irish Pub & Eatery - 109 Grand Ave, Hackettstown, NJ 07840 (908) 813-1900
Little White Rabbit
by Kevin Henkes, (written & illustrated) - 2011

Greenwillow Books

A rabbit that loves to pretend explores and changes nature using his imagination.
Llama Llama Mad at Mama
by Anna Dewdney - 2007

Viking Juvenile

An impatient llama is waiting for mama to finish shopping, and waiting and waiting.
Looking for a Moose
by Phyllis Root - 2006
Candlewick Press
A moose hides on different pages in this book for the readers to find.
Many Moons
by James Thurber - 1943
HMH Book
The Court Jester does what the Kings wise men could not, get the Moon for the Princess.
Martha Speaks
by Susan Meddaugh - 1992
HMH Books
A bowl of alphabet soup makes a smart dog converse and tell people what it really thinks.
Meanwhile Back at the Ranch
by Trinka Hakes Noble - 2014
Schwartz & Wade
A farmer escapes the bordom of the ranch to go to town, meanwhile his wifes life changes with leaps & bounds.
Minnie and Moo go to the Moon
by Parisby Denys Cazet - 1998

DK

Cow friends take a drive to the moon on a tractor but crash into a pigsty.
by Danny Schnitzlein - 2001

Peachtree Publishers

A boy gives his ball & bike to a monster who helped him eat, but refuses to give up his dog, so he eats his peas.
Spring Diner - 238 Spring St, Newton, NJ 07860 - (973) 383-2416
The Moon Is Going to Addy's House
by Ida Pearle. (written & illustrated) - 2015
Penguin/Dial.
A bedtime book about the moon following a girl home after a play date.
Mouse & Lion
by Rand Burkert, Illus. by Nancy Ekholm Burkert - 2011
Scholastic/Michael di Capua Books
Aesops fable where a mouse helps a lion after convincing the lion not to eat him.
by Ed Vere - 2008

Puffin

A piano playing huge monkey struggles with inclusion because of other animals baseless fears.
Decades of Memories - 221 Spring Street, Newton, NJ 07860 - (973) 383-4578
Mr. Peek and the Misunderstanding at the Zoo
by Kevin Waldron - 2008

Templar

A muttering zookeeper upsets the animals who misunderstands him & believe he is talking about them.
Mr. Squirrel and the Moon
by Sebastian Meschenmoser. (written & illustrated). Tr. by David Henry Wilson - 2008
NorthSouth
When a cheese wheel falls into a squirrel's tree he fears jail for stealing the moon.
Mrs. Marlowe's Mice
by Frank Asch - 2007

Kids Can Press

Intimidating cat police check a kind hearted cat librarian who secretly harbors mice in her home.
My Beak, Your Beak
by Melanie Walsh - 2002
HMH Books
Using interactive elements kids can learn how various paired animals are similar and different.
My First Busy Home: Let's Look and Learn!
by Charlie Gardner - 2012
Dorling Kindersley
Objects often seen around a house with views of a playroom, the bedroom, and their backyard.
My House
by Delphine Durande - 2007

Wingedchariot Press

Rooms of the house are filled with strange characters whose names make them very interesting.
My Life with the Wave. Based on the story by Octavio Paz
by Catherine Cowan, Translator and adaptor. Illus. by Mark Buehner - 1997
HarperCollins /Lothrop, Lee & Shepard.
A boy coexists with nature and his obsessions by taking waves and clouds as his pets.
My Many Colored Days
by Dr. Seuss, Steve Johnson and Lou Fancher - 1996
Knopf Books
The human life cycle is illustrated in colors & animals, that matches them with feelings, moods & emotions.
My Teacher is a Monster! (No, I am Not)
by Peter Brown. (written & illustrated) - 2014
Little, Brown Books
Teacher has a roaring voice, dark green skin, and claws that hold chalk, but turns human when you get to know her.
New Shoes, Red Shoes
by Susan Rollings - 2000

Orchard Books

A girl with a love of shoes & rhyming, explores colors, patterns, opposites and similar things.
Nikolai, the Only Bear
by Barbara Joosse - 2005

Philomel

This adoption fable shows that an out of place or misunderstood kid can feel like an unwanted bear.
No Two Alike
by Keith Baker - 2010
Beach Lane Books
Similar paired things are shown to be individual, different & unique even though quite similar looking.
Old Black Fly
by Jim Aylesworth - 1992

Henry Holt and Co

A fly buzzes and annoys all with his mischievous acts as he goes from A-Z before meeting his messy end.
The Old House
by Pamela Duncan Edwards - 2007

Dutton Books

A young family turns an old empty droopy house with low self-esteem into a happy historic home.
On Earth
by G. Brian Karas - 2005

G.P. Putnam's Sons Books

Our planet keeps rotating and spinning in revolution to create days, nights and seasons.
One Beetle Too Many: The Extraordinary Adventures of Charles Darwin
by Kathryn Lasky - 2006
Candlewick Pres
Charles Darwin discovered seashells on mountaintops & variations in plants and animals to start his theories.
Open This Little Book
by Jesse Klausmeier - 2012

Chronicle Books

Discover different levels in this book inside of book story which will help develop the joy of reading.
Orange Pear Apple Bear
by Emily Gravett - 2006
Simon & Schuster
Different combinations of 5 words influence wordplay by conveying different meanings.
by Michael Sussman - 2009

Sterling

The fuss over a new baby sister makes her older brother wish her away, he starts getting younger & grows down.
Onore Clothing - 21 White Deer Plaza, Sparta Township, NJ 07871 (973) 726-3322
The Pencil
by Allan Ahlberg, Illustrated by Bruce Ingman - 2008
Candlewick Press
A lonely pencil creates a world with a boy and a dog, but they want changes & he almost loses control of the world he created.
by Lynne Rae Perkins - 2007

Greenwillow

Siblings are given cameras to highlight a vacation at their grandparents' farm.
Rose City Framemakers - 19 Main St, Sparta, NJ 07871 (973) 660-0922
Princess Me
by Karma Wilson - 2007
Margaret K. McElderry Books
A girls imagination turns her into a princess as she turns her bedroom into her kingdom.
Prudence Wants a Pet
by Cathleen Daly, Illus. by Stephen Michael King - 2011
Roaring Brook Press
A determined girl wants a pet so she uses her imagination to create some until her parents give in.
by Jan Thomas - 2009

Beach Lane Books

A tale about some dust bunnies who always find words that rhyme until they meet a vacuum.
A & S Dry Cleaners - 297 Main St, Hackettstown, NJ 07840 (908) 852-4247
Scaredy Squirrel
by Mélanie Watt - 2006
Kids Can Press
A worried squirrel never leaves its tree but changes its routine when it falls and starts flying.
Seven Blind Mice
by Ed Young - 1992
Puffin Books
Mice teach colors, days of week, numbers and how to be patient & look at the whole picture to see the truth.
Shadow
by Suzy Lee - 2010
Chronicle Books
A girls imagination is sparked by objects whose shadows are transformed into friends who help her with a wolf problem.
Shadow
by Blaise Cendrars & Marcia Brown - 1982
Aladdin
A scary African folklore poem about the shadow that follows you everwhere, morning, noon & night.
Shapes That Roll
by Karen Berman Nagel - 2009
Blue Apple Book
See shapes in real life with a rhyming verse and a unique way to teach geometry.
by Fran Manushkin - 2006
Dutton Books
A family of magnets keep leaving the refrigerator leaving the youngest to search what happened to them.
Homebrew University - 160 Main St, Hackettstown, NJ 07840 (908) 452-5352
Sidewalk Circus
by Paul Fleischman, Illus. by Kevin Hawkes - 2004
Candlewick
Signs about a circus coming to town, mirror the actual circus like activities of the town around the signs.
Silly Suzy Goose
by Petr Horacek - 2006
Candlewick Press
A goose discovers that comformity is safer when a grumpy lion makes her feel vulnerable.
by Henrik Drescher - 1983

MacAdam/Cage Publishing

Art supplies take over a story of a boy that is threatened by a monster who is redrawn to be friendly.
Photographs Cameras & Video - 43 Theater Sparta Center, Sparta NJ 07871 (973) 729 5929
Six by Seuss
by Dr. Seuss - 1991
Random House
A collection of 6 avant-garde stories by the master of rhymes and imagination.
Smitten
by David Gordon - 2007

Atheneum Books

A sock and mitten seperated with their own pair become smitten with each other in this accessory love story.
The Squiggle
by Carole Lexa Schaefer, Illus. by Pierr Morgan 1996
Dragonfly Books or Crown
A piece of string becomes a fun tool for a creative little girl's imagination.
Stars Beneath Your Bed: The Surprising Story of Dust
by April Pulley Sayre, Illus. by Ann Jonas - 2005

Greenwillow

From pollen, to ancient asteroids or distant planets dust comes every day, stays in the air forever & is everywhere.
by Stephen Biesty - 2004

Enchanted Lion Books

What medieval life was like living inside of a castle, with lots of little details.
Creative Twist Salon - 220 Main St, Hackettstown, NJ 07840 (908) 850-0486 &
McKenna's Hair Salon And Spa - 207 Main St, Hackettstown, NJ 07840 (908) 850-3333
Stinky
by Eleanor Davis, (written & illustrated) - 2008

RAW Junior/TOON Books.

A smelly swamp monster who loves pickles becomes friends with what fears him most, a human boy.

(Read Stinky & other Heart picture books in Sparta & with other Courage books in Newton)
4 Chicks Cafe - 214 Spring St, Newton, NJ 07860 - (973) 940-8822
The Story of Fish & Snail
by Deborah Freedman - 2013

Viking Books

An extroverted Fish jumps into other books and tells an introverted Snail his adventures.
The Surprise Family
by Lynn Reiser - 1994

Greenwillow

A boys gives his pet hen duck eggs to hatch, she treats them as family, even when she realizes they are different

.
by Josh Schneider - 2011

Clarion Books

A dads lies, tricks, and uses humor to convince his picky eater son to try some new foods.
Frank's Trattoria - 80 Main St, Hackettstown, NJ 07840 (908) 852-2405 & Applebee's Grill + Bar - 6 N Park Dr, Newton, NJ 07860 - (973) 940-3003
Telephone
by Mac Barnett Illus. by Jen Corace - 2014
Chronicle Book
The message changes in this telephone line story for a mama bird trying to get a message to her little bird.
Tell Me the Day Backwards
by Albert Lamb, Illus. by David McPhail - 2011
Candlewick Press
A bedtime game that chronologically reverses the memory of each day ends where it begins.
by Teri Sloat - 2009

Henry Holt

A 9 year old discovers ceiling paintings of animals, people and planets in Spain's Altamira Cave.
Home Towne Hardware - 232 Main St, Hackettstown, NJ 07840 (908) 852-2100
by Jeff Mack - 2013

Roaring Brook Press

A confident boy marks his accomplishments & feats by turning them into rhymes.
Penelopes Treasures - 166-168 Spring St, Newton, NJ 07860 - (973) 590-1555
by Richard Byrne - 2014

Henry Holt

A non-conventional book that eats a dog, and then eats anyone who starts searches for the missing dog.
Black Dog Books - 188 Spring St, Newton, NJ 07860 07860 - (201) 230-3900
This Moose Belongs to Me
by Oliver Jeffers. (written & illustrated) - 2012
Philomel Books/Penguin.
Ownership of a pet Moose (who doesn't like rules) is in question after a walk in the woods.
The Three Little Wolves and The Big Bad Pig
by Eugene Trivizas- 1993

Margaret K. McElderry Books

Wolfs search for friends & beauty
The Three Pigs
by David Wiesner - 2001
Clarion Books
A surreal version where a pig is blown out of the story and into a happy ending, unless your a wolf fan.
Tiny Little Fly
by Michael Rosen - 2010
Candlewick Press
A tiny fly enjoys annoying the biggest animals he can find and escapes to buzz another day.
To Be a Kid
by Maya Ajmera and John Ivanko - 1999
Charlesbridge
Children share some commonalities no matter how different & diverse they seem.
Traction Man is Here!
by Mini Grey - 2005
Knopf Books
A ittle boy's imagination turns his toy into a superhero who makes chores a breeze.
The Turn-Around, Upside-Down Alphabet Book
by Lisa Campbell Ernst - 2004

Simon & Schuster Books

An optical illusion concept alphabet book that must be turned to discover the images from other perspectives.
The Velveteen Rabbit: Or, How Toys Become Real
by Margery Williams, Illustrated by Lou Fancher - 1922
Atheneum/Anne Schwartz Books
A wooden horse tells a stuffed rabbit that love can make you real, the rabbit gets well worn with a boys love.
Verdi
by Janell Cannon - 1997
HMH Books
A playful young yellow snake wants to stay young at heart and stays determined forever not to be old & boring.
Vulture View
by April Pulley Sayre, Illus. by Steve Jenkins - 2007
Holt
The majesty of the turkey vulture, nature's clean-up crew who seeks any dead thing that reeks.
Waiting
by Kevin Henkes. (written & illustrated) - 2015
HarperCollins/Greenwillow.
5 friends sit on a window, they are stuffed animals who wait patiently for what each of them has wished for.
Warning: Do Not Open This Book!
by Adam Lehrhaupt, Illus. by Matthew Forsythe - 2013

Simon & Schuster/Paula Wiseman Books

This example of reverse psychology keeps warning you as you encounter monkeys, toucans, alligators and a trap.
Way Down Deep in the Deep Blue Sea
by Jan Peck - 2014

Simon & Schuster

An imaginative adventure of a boy who meets different sea creatures while taking a swim in his bathtub.
Way Up and Over Everything
by Alice McGill - 2007
HMH Books
When slaves mysteriously escape to the north, southerners imagine they had magical powers & flew to freedom.
We Are in a Book!
by Mo Willems, (written & illustrated) - 2010
Hyperion
When two friends realize they are in a book they try to get the readers to say the word Banana.
by Kevin Henkes - 2000

Greenwillow.

A worry wart girl mouse meets another worried mousey who also brought a doll to her 1st day of school.
Pyramid Comics & Cards - 24 Main St, Sparta, NJ 07871 (973) 729-5343
What Can You Do with a Rebozo?
by Carmen Tafolla, Illus. by Amy Cordova - 2008

Tricycle Press/Ten Speed Press

A Mexican woven shawl is seen from multiple perspectives, imaginations & values.
What Do Illustrators Do?
by Eileen Christelow - 1999
Clarion / HMH Books
A creative instructional graphic novel looking at how 2 illustrators redo Jack & the Beanstalk.
What Do You Do With a Tail Like This?
by Steve & Page Jenkins - 2003
Houghton Mifflin.
This guessing and predicting book is about which nose, ear, tail, eyes, feet, and mouth goes with which animal.
by Denise Fleming - 1996

Square FishHenry Holt

A poetry based portrait of our disappearing natural environment & how animal habitats and ecosystems adapt.
Centre Dry Cleaners & Tailors - 3 Center St, Sparta, New Jersey 07871 (973) 729-7787
White is for Blueberry
by George Shannon, Illus. by Laura Dronzek - 2005

Greenwillow Books

A critical thinking and perspective book using different ways to look at nature, animals & objects around them.
White Snow, Bright Snow
by Alvin Tresselt - 1947

HarperCollins

This nostalgic look at a 1940's town experiencing & preparing for a large snow storm shows the magic of snow.
Who Done It?
by Olivier Tallec. (written & illustrated) - 2014
Chronicle
Observe expressions and positions to determine clues to mysteries about the guilty party in different situations.
Who Took the Farmer's Hat?
by Joan L Nodset - 1963

HarperCollins

A farmers favorite hat becomes gone with the wind and the search brings him to a bird who made it her nest.
Who Wants a Hug?
by Jeff Mack - 2015

HarperCollins

A skunk plans backfire after he uses smelly fish & rotting garbage to scare away a bear who loves to hug.
Why?
by Nikolai Popov - 1996

NorthSouth

The ravages of war as seen by mice and frogs, proving a resolution is always better than a conflict.
Work, An Occupational ABC
by Kellen Hatanaka - 2014

House of Anansi/Groundwood Books

26 careers from A - Z, from various possible jobs to less-than-traditional occupations.
The World Is Waiting for You
by Barbara Kerley - 2013

National Geographic Children's Books

Pictures of science and nature make kids eager to explore the world and figure what they want to grow up to be.
Wow! Said the Owl
by Tim Hopgood - 2009

Farrar, Straus and Giroux

A symphony of colors is discovered by an owl who stays awake to see the world during the daylight hours.
You and Me Together: Moms, Dads, and Kids Around the World
by Barbara Kerley - 2005

National Geographic

This book shows that around the world, in all different cultures their is a universal bond between children & parents.
Argosy Travel - 19 Main St, Sparta, NJ 07871 (973) 729-2184
You Are (Not) Small
by Anna Kang.Illus. by Christopher Weyant - 2014

Two Lions

Introduce young children to different size comparisons, diversity, being different & looking at size by perspective.
Yum! Yuck! A Foldout Book of People Sounds
by Linda Sue Park and Julia Durango. Illus. by Sue Ramá - 2005
Charlesbridge
How sounds are expressed in different languages with fold out flaps with English words.
Zen Shorts
by Jon Muth - 2005
Scholastic Press
A giant panda tells children stories about material goods, good and bad boundaries & holding in frustration.
Zoom
by Istvan Banyai - 1995
Puffin Books
A series of close ups in full zoom mode that is then seen in an un-zoomed perspective.
Sleep
10 Minutes till Bedtime
by Peggy Rathmann - 1998
G. P. Putnam's Sons
A hamster family signs up for the 10 Minutes Til Bedtime Tour and act crazier as the minutes count down.
A Book of Sleep
by Il Sung Na - 2007

Meadowside Children's Book Publisher

Animals help this bedtime story by explaining how they sleep.
And If the Moon Could Talk
by Kate Banks, Illustrated by Georg Hallensleben - 1997
Farrar Straus & Giroux/Frances Foster
Bedtime story about what on Earth the Moon would say.
Baby Bedtime
by Mem Fox - 2013
Penguin
An elephant caregivers lullaby that is perfect for a bedtime read along.
Baby Danced the Polka
by Karen Beaumont - 2004
Dial
A silly rhytum based baby book where dancing with animals is more fun than napping.
The Baby Goes Beep
by Rebecca O'Connell, 2003
Roaring Brook Press
A great read aloud that amuses through repitition of noises.
Beep! Beep! Go to Sleep!
by Todd Tarpley. Illus. by John Rocco - 2015
Little Brown
Rowdy robots are coaxed to bed by our young storyteller.
Biscuit
by Alyssa Satin Capucilli and Pat Schories - 2006

HarperCollins

Playing & snacking stops the bedtime routine for a puppy.
Charley's First Night
by Amy Hest. Illus. by Helen Oxenbury - 2012

Candlewick

Puppy gets a tour of his new home on his first night but disagrees with the sleeping arrangements.
Counting Kisses
by Karen Katz; Illustrator-Karen Katz- 2003
Little Simon
Baby gets kisses and dog licks until fast asleep
Eat Like a Bear
by April Pulley Sayre, Illus. by Steve Jenkins - 2013
Henry Holt
A hibernating brown bear wakes and eats, find out how he gathers foods.
Emily Brown and the Thing
by Cressida Cowell and Neal Layton - 2007

Orchard Books

An imaginative thing is crying outside Emily's window, she helps it fall asleep.
The Going to Bed Book
by Sandra Boynton - 1982
Little Simon
An ark full of animals gets ready for bed
Goodnight, Goodnight, Construction Site
by Sherri Duskey Rinker, Illus. by Tom Lichtenheld - 2011
Chronicle Books
Trucks are done for the day, goodnight Crane, Mixer, Dump, Bulldozer, and Excavator.
Goodnight Moon
by Margaret Wise Brown, illustrated by Clement Hurd - 1947
HarperCollins
A rabbit says goodnight to everything around him before he goes to sleep.
Good Night, Baby Ruby
by Rohan Henry - 2009

Harry N. Abrams

A baby girl who wants to do things by herself, avoids bedtime.
Good Night Gorilla
by Peggy Rathmann- 1994
Puffin Books
Mischievous gorilla follows the zookeeper on his night rounds and lets the other animals out of their cages
Good Night, Sleep Tight
by Mem Fox - 2012

Scholastic

A babysitter tells nursery rhymes to get the kids to bed.
Goo​dnight Already!
by Jory John - 2014
HarperCollins
A duck wants to stay up all night with his sleepy bear friend.
Hibernation Station
by Michelle Meadows - 2010
Simon & Schuster Books
A train goes through the forest picking up sleepy animals for their winter hibernation.
How Do Dinosaurs Say Goodnight?
by Jane Yolen - 2000
Scholastic
Dinosaurs are substituted for children
Hush! A Thai Lullaby
by Minfong Ho, Illus. by Holly Meade - 1996
Scholastic
A lullaby for animals so they won't wake up a moms sleeping baby.
Llama Llama Red Pajama
by Anna Dewdney - 2005
Viking Books for Young Readers
Separation anxiety at bedtime
Mama Cat Has Three Kittens
by Denise Fleming - 1998

Square Fish

One kitty likes to sleep when his siblings are playing, and wide awake and ready to go when they are sleepy.
Monkey and Me
by Emily Gravett - 2007

MacMillan UK

A girl and her toy monkey pretend to be as many animals as they can before bedtime.
The Moon Is Going to Addy's House
by Ida Pearle. (written & illustrated) - 2015
Penguin/Dial.
A bedtime book about the moon following a girl home after a play date.
by John Rocco - 2008

Hyperion

A boys nightmare comes true but his dream has fixed the Moonpowder Factory.
Ashley's Restaurant - 229 Main St, Hackettstown, NJ 07840 (908) 979-1550
The Napping House
by Audrey Wood - 1984
Harcourt Children's Books
Animals head to bed & guess what will happen when a flea joins them
Naptime
by Iris De Moüy. (written & illustrated). Tr. by Shelley Tanaka - 2014

Groundwood/House of Anansi.

A girl convinces some grumpy animals that they need to take a nap and she shows them how to do it.
Night Worker
by Kate Banks, Illustrated by Georg Hallensleben - 2000
Farrar, Straus and Giroux / Frances Foster
A kid who loves construction sites dreams of going to work at night with his dad.
Nighttime Ninja
by Barbara DaCosta. Illus. by Ed Young - 2012

Little, Brown

A kid sneaks around the house on an ice cream eating mission, when everyone should be sleeping.
Nighty-Night, Cooper
by Laura Numeroff - 2013
HMH Books
A mother kangaroo makes up lullabies to get her not so sleepy son to bed in her pouch.
Old Bear
by Kevin Henkes, (written & illustrated) - 2008
Greenwillow Books / HarperCollins
A hibernating old bear dreams of his antics as a young cub when he was curious and appreciative of nature.
Polar Bear Night
by Lauren Thompson, Illus. by Stephen Savage - 2004
Scholastic Press
A polar bear cub strolls outside her den passing sleeping animals and watching the stars until she gets tired.
Prayer for a Child
by Rachel Field - 1944
Simon & Schuster
This 1941 child's bedtime prayer was written about World War II, but works well at any bedtime.
The Quiet Book
by Deborah Underwood.Illus. by Renata Liwska -2010

Houghton Mifflin

Over 2 dozen variations of quiet that children are familiar with in their daily lifes.
Rhymes for Annie Rose
by Shirley Hughes - 2006
Candlewick
Poetry about an average toddlers favorite activities from playing with toys to bedtime.
Russell the Sheep
by Rob Scotton - 2015
HarperFestival
One wide-awake sheep
Sleep Like a Tiger
by Mary Logue. Illus. by Pamela Zagarenski - 2012

HMH Books

Getting a non sleepy girl to bed takes a story about how animals sleep and a bit of reverse psychology.
Sleepy, Oh So Sleepy
by Denise Fleming - 2010

Henry Holt and Company

Babies of all kinds, whether humans or animals, will eventually get sleepy.
Sleepytime Rhyme
by Remy Charlip - 1999
Greenwillow
This bed-time book is about parental love, body parts & opposites.
The Squeaky Door
by Margaret Read MacDonald - 2006
HarperCollins
This folktale has a boy sleeping over at Grandma's, but a squeaky door makes him need comfort, company & more.
Tell Me the Day Backwards
by Albert Lamb, Illus. by David McPhail - 2011
Candlewick Press
A bedtime game that chronologically reverses the memory of each day ends where it begins.
Ten in the Meadow
by John Butler - 2006
Orchard Books
A hide-and-seek game between woodland animals keeps the math and counting going until they all hit the bed.
Ten in the Bed
by Jane Cabrera - 2006

Holiday House

Specially skilled animals get nudged off a boys bed in this counting book.
Ten, Nine, Eight
by Molly Bang - 1983

GreenWilBk

Rhyming game countdown to sleep by dad to daughter
Time For Bed
by Mem Fox - 1993

Red Wagon Books

Darkness brings that cozy feeling, snuggling under the covers.
Ten in the Meadow
by John Butler - 2006
Orchard Books
A hide-and-seek game between woodland animals keeps the math and counting going until they all hit the bed.
Time for Bed, Spot
by Eric Hill - 2004

Warne

A untired dog dreams to be a pirate and a cowboy not to get ready for bed, but toys & imagination gets tiring.
Time to Sleep, Sheep the Sheep!
by Mo Willems, (written & illustrated) - 2010
Balzer & Bray/HarperCollins
While owl is just getting started the other animals go through their bedtime routines.
Tuck Me In!
by Dean Hacohen. Illus. by Sherry Scharschmidt - 2010
Candlewick Press
A half page flap is used as a blanket to cover the sleepy animals on each page.
Waiting for Winter
by Sebastian Meschenmoser. (written & illustrated) - 2007
Kane/Miller
A squirrel, a hedgehog and a bear attempt to wait & keep awake for the 1st winter snow.
Waking Beauty
by Leah Wilcox - 2008
Putnam Juvenile
A fairy tale spoof has a germ obsessed prince trying silly things to wake the snoring princess before the kiss of life.
What! Cried Granny: An Almost Bedtime Story
by Kate Lum, Illustrated by Adrian Johnson - 1998
Dial
A boy stays with his grandmother but can't sleep until she makes him a bed, pillow, blanket & teddy bear.
Yes!
by Jez Alborough - 2006

Candlewick Press

A mom is trying to get her gorilla baby whose playing with friends to get ready for bed.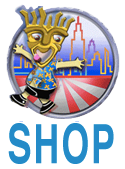 (917) 822-1870